Best Root canal treatment in delhi :What is root canal treatment?
Root Canal treatment alo called RCT is an art of dentistry to save a Paining tooth from removal when infection has reached its nerve portion (Pulp Chamber).

Root canal specialist in delhi : When is Root Canal treatment required?
Before proceeding to this first know about Structure of tooth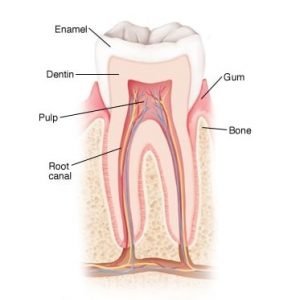 Whenever there is infection in tooth (black tooth /cavity/decay) which has reached the nerve Portion of our tooth (also called Pulp Chamber)

We are left with 2 options
Either to take that tooth out (Tooth Removal /Extraction: which is not advisable until tooth is in very bad condition)
We can save it with Root Canal Treatment
Best root canal treatment in delhi :What is the root canal treatment procedure?
Root Canal treatment in delhi at Geetanjali Dental Options is performed by best root canal specialist in delhi under great care using new and highly advanced techniques to make it as painless as possible. We begin with the local anaesthesia to numb the tooth. Procedure for Root Canal Treatment:-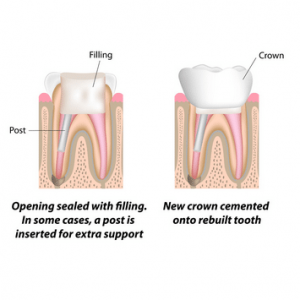 How do I know if the root canal treatment is the best choice?
It is always the best choice to save a natural tooth (untill it is badly damaged or shaking alot). With the advancement in technology and the use of latest equipments the procedure is made most comfortable and painless, which was not possible earlier. After the procedure your teeth functions like a normal tooth.
Painless root canal treatment delhi : Is root canal treatment a painful procedure?
Main aim of the root canal treatment is to relieve pain caused due to the swelling and infection in the pulp/nerve chamber. It is our utmost concern to make root canal treatment as painless and comfortable for you as possible. The procedure is done under local anesthesia and with latest equipment using modern day techniques. After the procedure your tooth might feel a little different from the other, but this sensation is temporary which depletes with time. Always Remember root canal treatment is done to relieve you of the pain and infection and not to make it more painful for you.
How many appointments root canal treatment will take?
Root canal can be done in single sitting or multiple sittings which depends upon the underlying infection.Multiple sitting root canal treatment usually is completed in 2 to 3 sittings.
Best root canal specialist in delhi :What are the root canal treatment side effects?
There are no as such side effects of root canal but our tooth becomes more brittle after root canal treatment as there is no blood supply for nourishment of tooth , and is prone to fracture by any abnormal forces. so to avoid such situation it is recommended to get crown /cap on the root canal treated tooth.
What is the prognosis of a root canal treated tooth?
A properly root canal treated and crowned tooth with with a meticulous oral hygiene regime followed by the patient will make your tooth functional for many years to come.
Summary
Article Name
Root canal Treatment in delhi by best root canal specialist in delhi
Description
Root canal Treatment in delhi by best root canal specialist in delhi Dr Puneet Arora.root canal is done with latest techniques to make it painless treatment
Author
Geetanjali Dental Options