Invisible Braces in Delhi
Invisible Braces in Delhi also called Invisalign in Delhi is now available with 100% success rate at Geetanjali Dental Options.Want to know Invisalign cost in Delhi India ,Read till End
Checkout Few Treated Cases First:-
Clear Aligners/ Invisible Braces / Invisalign

Are You Looking For Smile Correction using Invisible Braces?
Yes, you are thinking in the right direction. Invisible Braces are now available in India at Geetanjali Dental Options that can correct your smile without anyone knowing that you are taking some treatment for the same.
What are the Benefits of getting smile correction by Invisible Braces in Delhi?
If you go through smile designing using Invisible Braces in Delhi, you can attain the smile you've always wanted. Smile design is an exciting new idea in dental treatment that we offer our patients. Whether you have crooked, chipped, cracked, discolored, or misaligned teeth, our smile designing service will let you opt for your new smile.
How are they Different from Regular Braces?
Invisible Braces in Delhi, also called Invisalign in Delhi, are removable medical grade plastic appliances which patient wears instead of brackets and wires to correct malocclusion, also called clear aligners. These are a modern alternative to braces in Delhi, for teeth that need straightening.
The whole treatment is CAD-CAM driven.
Results are predictable means we can show you your results before starting your treatment. Check out this video:-
No restrictions in eating like in case of Normal braces.
Removable and transparent Invisalign in Delhi / Invisible Braces are Removable and Transparent i.e., you can remove them during eat, drink, brush and floss or for special occasions(party, functions, etc.).but even if you wear them still no one can recognize check out this pic of a patient with aligner:-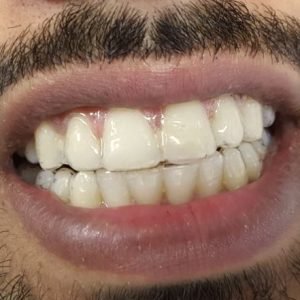 Can a Patient of age above 40 yr take this kind of treatment?
Yes,we have treated a lot of patients, and out of them, around 50% were above 40 yrs of age.so age is not the criteria as we have patients as at the age of 51 taking this treatment, but underlying bone should be good. Get your jaw bone analysis done BOOK AN APPOINTMENT.
What is Invisalign Cost in Delhi India (Cost of Invisible Braces in Delhi India )?
Invisalign treatment varies from 3 months to 2 yrs depending upon the severity of the malocclusion. Hence, Invisalign cost in Delhi India varies from patient to patient, so for exact cost Book an Appointment today.
Invisalign in Delhi: A Clear change to the concept of Cosmetic and Adult Orthodontic treatment without using conventional methods of wires and brackets. Adults wouldn't have asked for a better choice to correct their malocclusion without social inhibitions.
Still Have More Questions Chat with the Specialist: CLICK NOW