Teeth Whitening in Delhi
Teeth whitening also called teeth bleaching (Teeth whitening in delhi) can make your smile look more attractive and younger. People with discolored teeth often lose some great opportunities in their life and also lack in confidence. The bright and shiny teeth surely increase the confidence level as well as your persona.
Teeth tend to get discolored due to:
Aging
Medications
Chemicals
Beverages such as coffee
Wine (Few types)
However it is important to know that Teeth Whitening only will not correct certain forms of discoloration completely e.g fluorosed teeth/mottled teeth,Deep tobacoo stains.These cases can be corrected by Smile Makeover
Teeth Whitening or Teeth Bleaching (Teeth whitening in delhi) can be done in two ways:
In office Teeth Whitening
At home Teeth Whitening
In office Teeth Whitening :Teeth whitening in delhi in 45 minutes.Teeth whitening is done using special light and special gel that we are going to apply on your teeth.results will be compared with photographs before and after procedures instantly.
At home Teeth Whitening:Results Can be visualised after 3 to 4 days of continouus application. We fabricate special custom trays for you from the lab and provide you with a whitening gel to be applied as per instructions that will be given to you.
At Geetanjali Dental Options we are also offering Laser teeth Whitening.
We at Geetanjali Dental Options offers best teeth whitening in delhi with instant results.for more details you can book an appointment.
Patients Feedback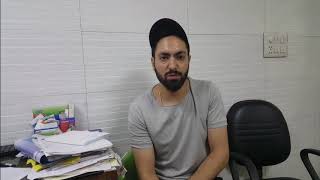 Painless Root canal Feedback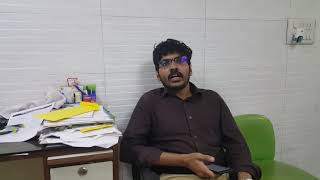 Dr Raghav (Pulmonologist): Feedback for root canal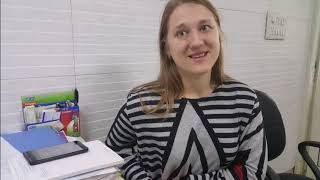 Doctor from Russia ,feed back,root canal treatment done by Dr Puneet Arora Geetanjali Dental Options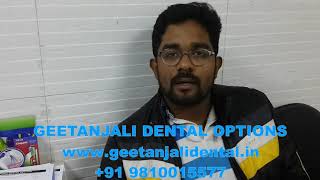 Dr Divin Pediatrician Feedback for root canal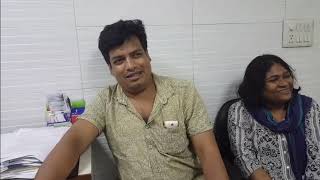 Patient left feedback for root canal treatment by Dr Puneet Arora @ Geetanjali Dental Options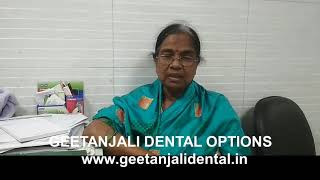 Dr Shantilata Pediatrician Feedback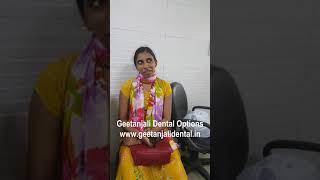 Medico from AIIMS visited for Root canal treatment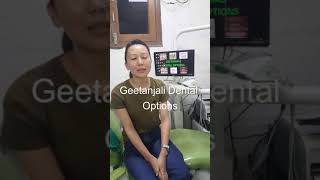 Medico from MAX hospital visited for Root canal left feedback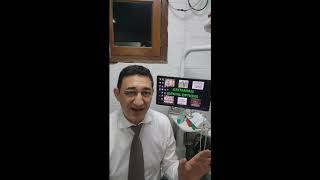 Moroccan Diplomat Implant feedback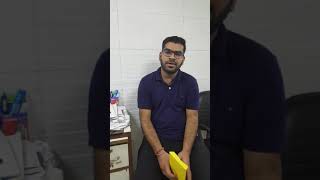 Painless Root canal Feedback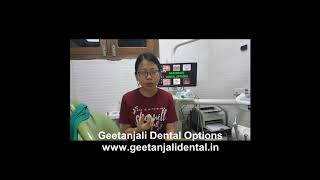 Patient feedback:Painless Root canal treatment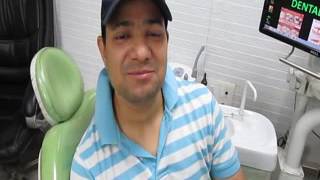 Painless Root canal feedback from patient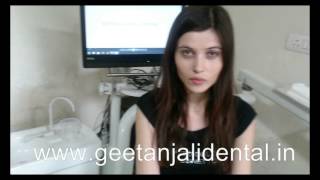 Famous Model From Romania:Painless Dental treatment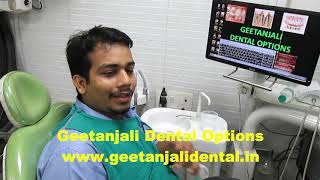 Painless Root canal :Patient feedback
Painless Root canal Feedback

Patient left feedback for Painless Root canal treatment

Dr Raghav (Pulmonologist): Feedback for root canal

A Pulmonologist from TB hospital visited for Painless Root canal treatment and capping @ Geetanjali Dental Options. Treated by Dr Puneet Arora

Doctor from Russia ,feed back,root canal treatment done by Dr Puneet Arora Geetanjali Dental Options

Doctor from Russia ,feed back,root canal treatment done by Dr Puneet Arora Geetanjali Dental Options

Dr Divin Pediatrician Feedback for root canal

A Pediatrician From Malviya madan mohan government hospital visited for root canal treatment @ Geetanjali Dental options.Treated by Dr Puneet Arora

Patient left feedback for root canal treatment by Dr Puneet Arora @ Geetanjali Dental Options

Painless root canal treatment in delhi : Best root canal Specialist in delhi offers best root canal treatment in delhi

Dr Shantilata Pediatrician Feedback

Senior Pediatrician from orissa got Root canal done by Dr Puneet Arora @ Geetanjali Dental Options

Medico from AIIMS visited for Root canal treatment

Medico from Aiims visited for Root canal and smile makeover @ Geetanjali Dental options ( Treated by Dr Puneet Arora)

Medico from MAX hospital visited for Root canal left feedback

Medico from Max hospital visited for Painless Root canal treatment by Dr Puneet Arora @ Geetanjali Dental options

Moroccan Diplomat Implant feedback

Moroccan Diplomat visited for Painless Root canal treatment,Painless Implants,Teeth whitening.treated by Dr Puneet Arora

Painless Root canal Feedback

A Patient visited for Painless Root canal by Dr Puneet Arora @ Geetanjali Dental Options

Patient feedback:Painless Root canal treatment

Patient left a feedback after getting a Painless root canal by Dr Puneet Arora @ Geetanjali Dental Options

Painless Root canal feedback from patient

Painless RCT feedback

Famous Model From Romania:Painless Dental treatment

Painless Gum bleeding treatment By Dr Puneet Arora

Painless Root canal :Patient feedback

Painless Root canal treatment By Dr Puneet Arora
Summary
Reviewer
Review Date
Reviewed Item
Teeth Whitening: results are awesome
Author Rating